Put those funds away for awhile — and watch them grow with competitive, fixed rates. Simply choose your term and trust the process.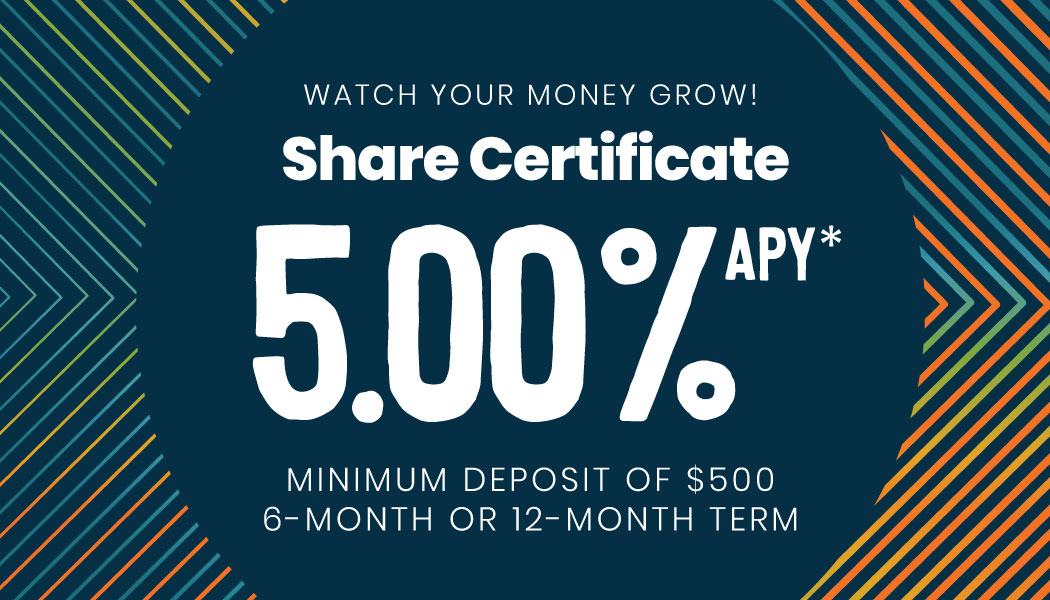 APY - Annual Percentage Yield. $500 minimum deposit to open account and earn 5.00% APY for a 6-month or 12-month share certificate. APY is accurate as of August 11, 2023. A penalty may be imposed for early withdrawal. Fees may reduce earnings. This account will automatically renew at maturity into a non-promotional share certificate with the same corresponding term as the original certificate at the time of opening at the rates current at renewal time. No maximum deposit amount. To earn the stated Annual Percentage Yield (APY) the account must be funded with all new money, meaning the deposit must be from another financial institution (transfers between TRUE Community Credit Union accounts will not qualify). TRUE Community Credit Union reserves the right to change the rate at any time. Rates, conditions, and terms subject to change at any time without notice. Membership guidelines apply. See branch for complete details. Additional account information is provided in the TRUE Community Credit Union New Account Disclosure. TRUE Community Credit Union reserves the right to cancel the promotion at any time.
Key Features
Competitive, Fixed Rates
Guaranteed Earnings
Wide Range of Terms
Set aside for future savings goals
Competitive, fixed rate for length of term
A wide range of terms available (from 3 months to 5 years)
Receive higher rates by selecting a longer term
No setup or maintenance fees
Flexible options at maturity
Can ladder share certificates to increase liquidity
Early withdrawals subject to penalty
$500 minimum deposit to open
Federally insured by NCUA up to $250,000
Dividends
Dividend earnings may be reinvested into the share certificate to enhance your total earnings. Or you may choose to have dividends deposited into a savings account or mailed directly to you.
Maturity
Unless specific arrangements are made with a member service representative, certificates will automatically renew at maturity. A statement will be sent out approximately 14 days prior to maturity and there will be a 7-day grace period. This provides convenience for members, and permits members nearly 30 days to change the terms or conditions of the certificate without penalty.
Laddering
A great way to build liquidity into certificates — and to make the most of rate changes — is to ladder your share certificates.
Laddering simply means dividing your money among several certificates, each with an increasingly longer term, instead of putting all your money into one certificate. This way, part of your investment becomes available periodically rather than locking the entire amount for the longest term.
In addition to making funds available if you need them, this gives the opportunity to take advantage of rates that are increasing since you can reinvest the share certificate that matures at the current rate.
Certificate of Deposit: The Basics
Click the button below for additional information on Certificate of Deposit, cashing out and more!