Michigan Made Checking TM is one account with a depth of possibilities! As a member, you will earn points based on select activities and relationships you have connected to your Michigan Made Checking TM account. The total number of points earned during each monthly cycle* will determine your reward tier, which is directly tied to the amount of interest earned on your Michigan Made Checking account for the month.
With a TRUE Community Visa, you can earn more points and move up a reward tier with your Michigan Made CheckingTM account! Save money and save on interest and receive No monthly fees and free Cash advance!
DO THE MATH TO SEE WHAT YOU CAN SAVE & EARN
The example below with a TRUECCU VIsa- To-Go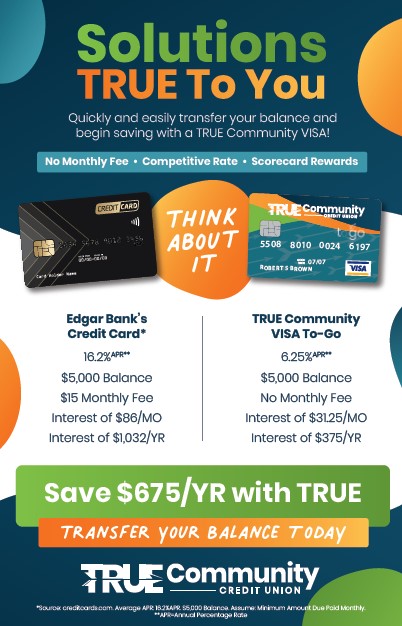 *APY = Annual Percentage Yield. APY is accurate as of 9/2/2020. This Account is subject to a Reward-based Tiered Fixed Rate. Rates subject to change. There are no recurring monthly service charges or fees to open or close this account. There is no minimum balance requirement. Rewards Checking Account allows you to control your interest rate reward based on the products/services used during each month. All daily collected balances will earn interest based on the combined rate rewards. Each monthly reward cycle will begin on the last business day of the preceding monthly statement cycle and end on the day that immediately precedes the last day of the current month's statement cycle ("monthly reward cycle"). Earned reimbursements will post to Your Account on the last day of each statement cycle, subject to Your meeting the qualifying criteria during the preceding reward cycle. The APY shown on your monthly statement will reflect interest earnings for your entire balance. Interest will be calculated and posted on the last day of each month using an Average Daily Balance Method. If you close your account before interest is paid, you may not receive the accrued interest. Fees may reduce earnings. Limit one Michigan Made Checking Account per Social Security number. Debit cards based on eligibility. Loans based on approval. Membership eligibility guidelines apply.