Discover our new branch opening this fall located at 1309 West Parnall Rd. in Jackson.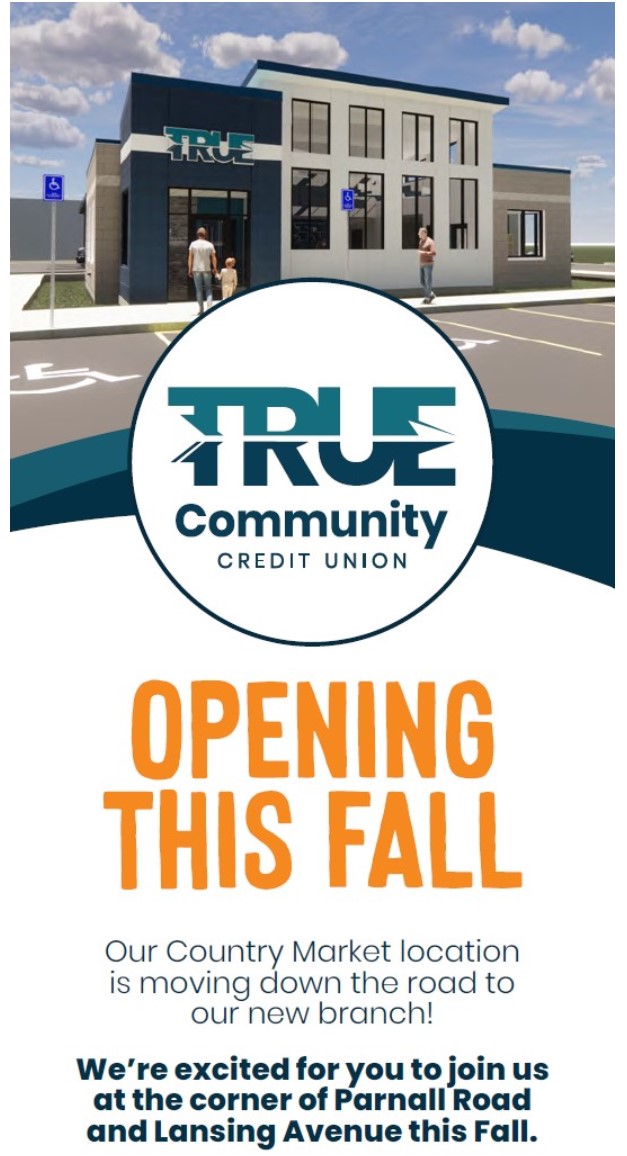 ---
GRAND OPENING CELEBRATION
We're holding a Grand Opening on Wednesday, October 18, from 12-2 p.m. to welcome you all to your new branch experience at 1309 W Parnall Road!
There will be a short ribbon-cutting ceremony at 12:30 p.m., followed by snacks, refreshments, and giveaways!
Larger Branch Interior for an Upgraded Member Experience!
Enjoy more opportunities for in-person interaction at our brand-new location with more than 2,500 square feet of space and additional offices for personalized service to members!
TRUE Connect ATM/ITMs
New Drive-Thru Experience –Same Simple Transactions!
Our TRUE Connect ATM/ITMs combine the conveniences of an ATM for all your self-service needs with the added assistance of a -TRUECCU teller through our Interactive Teller Machines (ITMs).
Transactions that can be completed using our TRUE Connect ATM/ITM:
Deposit cash and checks directly into ATM/ITM – No more tubes or envelopes!
Quickly withdraw from your savings, checking, or credit card.
Split deposits between TRUECCU accounts.
Transfer funds between TRUECCU accounts.
Make TRUECCU loan and credit card payments by cash or check deposits or by transferring from TRUECCU accounts.
Request balance inquiries.
Print mini statements with the last 5 or 10 transactions.
Tap the help button to speak with a TRUECCU teller for additional assistance.
Same Great Tellers Inside, Ready to Assist You!
Transactions that will need to be completed inside our branch:
Cashier check requests.
New card printing.
Opening Money Trees.
Depositing or withdrawing coins.
Shared Branching transactions.
Withdrawals from your savings, checking, or credit card above the ATM/ITM daily limits.