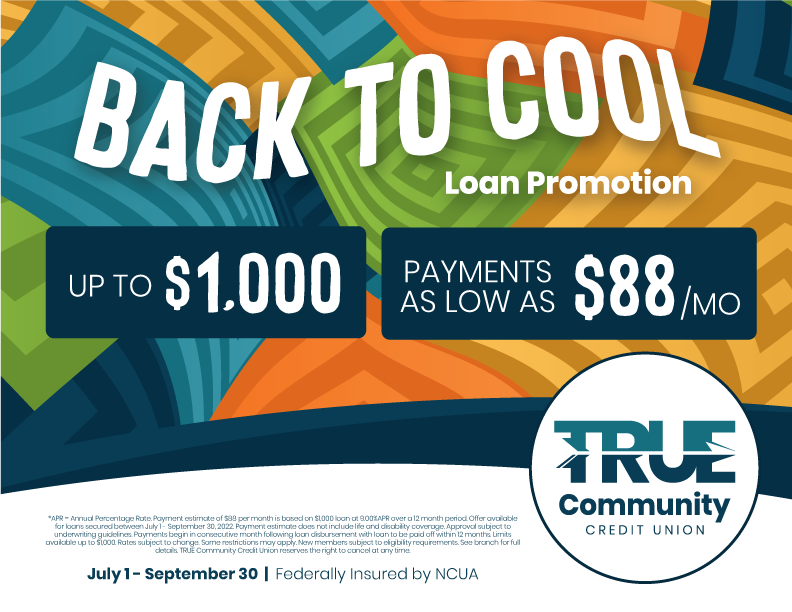 *APR = Annual Percentage Rate. Payment estimate of $88 per month is based on $1,000 loan at 9.00%APR over a 12 month period. Offer available for loans secured between July 1 - September 30, 2022. Payment estimate does not include life and disability coverage. Approval subject to underwriting guidelines. Payments begin in consecutive month following loan disbursement with loan to be paid off within 12 months. Limits available up to $1,000. Rates subject to change. Some restrictions may apply. New members subject to eligibility requirements. See branch for full details. TRUE Community Credit Union reserves the right to cancel at any time.
Borrowers must be of legal age to apply for a loan.
Key Features
Competitive Rates
Fast Decisions
Local Service and Processing
Competitive fixed rates for a wide range of personal needs:

Start a new hobby
Outfit a game room
Go on vacation
Finance education expenses
And more

Flexible terms and monthly payments that fit your needs
Local decision-making and processing right here in Mid-Michigan
Customized, friendly service from our experienced lending team
Secured loans let you use your savings as collateral — so you can enjoy lower interest rates. Unsecured loans do not require collateral backing, but the interest rate may not be as favorable.
Secured Loans
Use your savings as collateral
Secured savings continue to earn dividends
Potentially lower interest rates
Safe way to build your credit
Finance a wide range of purchases
Repayment terms customized to fit your unique needs
Unsecured Loans
No collateral necessary; requires little more than a signature
Simple solution when you need cash fast
Competitive interest rates
Finance a wide range of purchases
Repayment terms customized to fit your unique needs