The worldwide purchasing power of Visa® is made even better when paired with the hometown local touch of TRUE Community Credit Union. Enjoy low rates on premium cards, including a valuable reward program. We offer two great cards to choose from: Visa To Go or Visa Cash In. Walk out with your card the same day with instant card issuance. Applying is easy, so don't wait to get the card that gives you more of what you want.
While we encourage you to apply online, safely and easily at the link below, we understand that there are needs for visiting one of our branch locations. Due to COVID-19, we are asking that our members, and potential members, please make an appointment for loan and membership services. You can schedule your appointment, here.
With a TRUE Community Visa, you can save money and save on interest!
No monthly fees and free Cash advance!
DO THE MATH TO SEE WHAT YOU CAN SAVE!
The example below with a TRUECCU VIsa- To-Go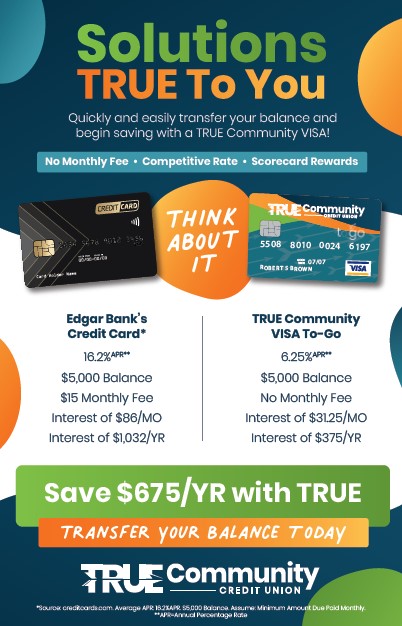 Visa Credit Cards
Are you currently a member of TRUE Community Credit Union?